Featured Decorative Ceiling Tiles Before & After Photos > Before & After Library
Decorative Ceiling Tiles – Before and After Photos  
If you need to be convinced about whether you should add decorative ceiling tiles to the top of your DIY home improvement project list, here is proof positive! You absolutely have to see these ceiling and home remodel before and after photos. It really is amazing how quickly and easily you can transform a room from fine to fabulous with decorative ceiling tiles! Make every day a beautiful day!
For even more ceiling decorating ideas be sure to check out our  Ceiling Tile Idea Book | Ceiling Picture Book
All ceiling tiles supplied by Decorative Ceiling Tiles, Inc. Milan is by far our favorite ceiling tile merchant.  He is knowledgeable, dedicated and honest — we can't ask for more!
K

itchen Ceiling Before & After Installing Decorative Ceiling Tiles
Love this kitchen makeover.  This Tennessee resident used Decorative Ceiling Tiles R 74 Coronado Styrofoam Ceiling Tile. to cover ceiling damage for soffit removal and her ugly popcorn ceilings.  The project took approximately 1.5 days and the new ceilings cost just $400
Before & After Installing Decorative Backsplash
Contemporary Before Photos by Other Metro Building Supplies Decorative Ceiling Tiles, Inc. |  Contemporary Kitchen by Other Metro Building Supplies Decorative Ceiling Tiles, Inc.
Before and after installing 0614 Optical Illusions Backsplash – Home owner painted plain silver tin tiles with a paint and primer in Behr's Island Aqua to give the all grey and white kitchen a pop of color and followed that with a coat of poly to protect the surface and give it a nice sheen.  The professional installation took less than three hours and the subsequent painting took an additional day with dry times between coats.
Love this Before & After Photo from HGTV's Flipping the Block.  The designers of the winning condo choose a tin backsplash!  You can see all the before and after pictures here.
Below is a zoomed in shot of the backsplash with the tile we would use to replicate the look – Princess Victoria Aluminum Backsplash #0604
B

athroom Ceiling Before and After Installing Decorative Ceiling Tiles

Before  and after installing R 01 Styrofoam Ceiling Tile 20×20
Check out the difference in this bathroom's before and after pictures courtesy of theinspiredroom.net.  All we can say is WOW – what a difference a little decorative tin tile backsplash and paint can make!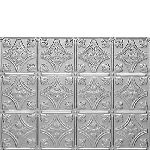 ..

0604 Princess Victoria Backsplash | 1204 Tin Ceiling Tile – Classic Elizabethan Shield
Bedroom Ceiling Before and After Installing Decorative Ceiling Tiles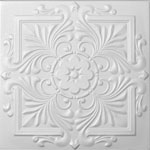 212 Faux Tin Tile | R 14 Styrofoam Victorian Ceiling Tile | 217 Faux Tin Ceiling Tile  
When looking up matters,  do you prefer…
(Think beauty salon, dentist, massage therapist, and doctor's offices)
I must be obsessed because after a recent visit to The Dry Bar in San Diego,  all I could think about was that decorative ceiling tiles really do make a difference.    By using the 24 x 24 224 Drop in Decorative Ceiling Tiles and the 130 Plain Molding, replacing the entire ceiling in your hair washing station and installing the crown molding should take only a few hours and a few hundred dollars. If your budget permits, we would also recommend changing out the fluorescent light bulbs with canned lights and dropping down a Landon Sphere or Chandelier for a splash of color! If you have black wash basins, consider creating a black and white look! There are even glossy black and white drop in decorative ceiling tiles available.
Think Hotel Ceilings!
YUK, YUK, and YUK!
vs.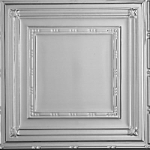 2406 Tin Ceiling Tile – Classic Queen Anne Lace | R 28 Styrofoam Ceiling Tile |  2433 Tin Ceiling Tile – Trafalgar Square | 2401 Tin Ceiling Tile – Classic Edgerton Square
Think Restaurant Ceilings!
2401 Tin Ceiling Tile – Classic Edgerton Square | 2453 Tin Ceiling Tile – 2453
I am not even going to indicate the name and location of this restaurant — who would ever want to eat there with these disgustingly dirty and stained ceilings!  Yuck.  All the owner needs to do is glue a simple white Styrofoam ceiling tile to his current tiles, paint the ceiling frame, and voila – the room will, if not be entirely transformed, at least feel fresher and cleaner. 
No before photo but a stunning after picture using Faux Leather Tiles!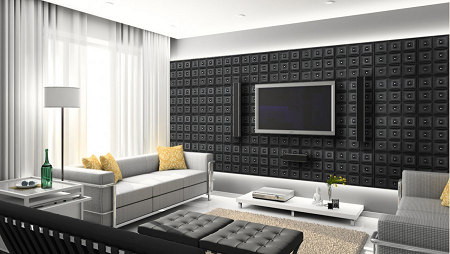 We love this "Man Cave" happened upon on Zillow.  Yes, you can buy the house for a mere $7 million or DIY and create you very own man cave — who really wants to maintain 24,000 square feet of perfection, anyway?  Just add a faux tin ceiling accentuated with ample molding, maybe faux leather decorative wall panels ( how cool would that be), a huge tv (obviously) and sound system, and maybe a pool table or ping pong table if you have the room.  For furniture, a black or brown leather/ suede recliner is a must with coordinating leather or suede couches.
Get the look:
Tin Ceiling Tiles | Faux Tin Ceiling Tiles | Black & Silver Painted Styrofoam Ceiling Tiles
M

ake it a Beautiful Day!