Featured Black Ceiling Tiles >> Coffered Faux Tin Decorative Ceiling Tiles in Black Matte from TalissaDecor 
Black ceilings? Yay or Nay? CeilingTileIdeas.com says absolutely yes! Although it takes a bit of daring to use black ceiling tiles, they can at once give a space a feeling of mystery and elegance as well as create a sense of intimacy. Some contractors worry that painting a ceiling black will make it look totally closed in, but the truth is quite often a black ceiling makes a room seem much more expansive because it creates the illusion of the huge void above, an infinity, or night-sky effect. Sometimes black ceiling tiles and black wall panels are not so much a design choice as a solution to a very practical problem. Commercial kitchens often choose black ceilings to hide smoke and water stains.  Movie theaters, concert halls, night clubs, and other entertainment venues often choose black ceilings to avoid light reflection.  We actually got a kick out of a yahoo answers that asked "Why is there always black ceilings in clubs or restaurants?"  The best answer chosen by voters: "music sounds better in the dark. . .and it sometimes looks classier." Yes, we love black ceilings.  Milan, our friend, at DecorativeCeiling Tiles.net has challenged us to feature ceiling colors and design ideas using black decorative ceiling tiles.  We gladly accept the challenge.
We know we are hooked on the look of tin tiles when we view the photos posted below and know for a fact that as great as the ceilings look, every single room would be a thousand times more interesting and more reflective of today's design aesthetic if the decorators had taken advantage of the diverse selection of black decorative ceiling tiles available.  People need to stop thinking paint and start thinking ceiling panels especially since ceiling panels can be painted just about any color, and add dimension and interest to any room.  We've said it before and will say it again, installing ceiling tiles will transform your room from plain to beautiful in just hours.
We have compiled a small photo gallery of some great rooms with black ceilings.  Even before you look at the gallery check out these chic black decorative faux tin or faux leather tiles so as you peruse the photos you will know exactly what we mean when we say the rooms would look so much better if they had just used a black ceiling tile.  These faux tin tiles are available in 24″ x 24″ (sometimes referred to as 2×2 ) tiles for easy drop in or glue up installation for a tin look with no metal "echo."All are lightweight, maintenance free, easy to install, and have a class A" fire rating.  Additionally, keep in mind that just about all Milan's tin and foam tiles can be painted black.
Black Ceiling Photo Gallery
Here are a few photos from some of the best interior design professionals in the world.  You will quickly notice that no matter the style — traditional, contemporary, or transitional — the rooms all have one element in common, the wall color is always lighter than the ceiling color. The more traditional designs generally add a hearty abundance of beautiful crown molding and  the designers have all kept the floors light (or covered a dark floor with a large light colored area rug).  The key to successfully using black ceiling panels is that the entire project must be well thought out to keep the design visually scaled, balanced, and fresh.
We almost forgot … black decorative panels used on walls create a dramatic impact plus they help with sound absorption!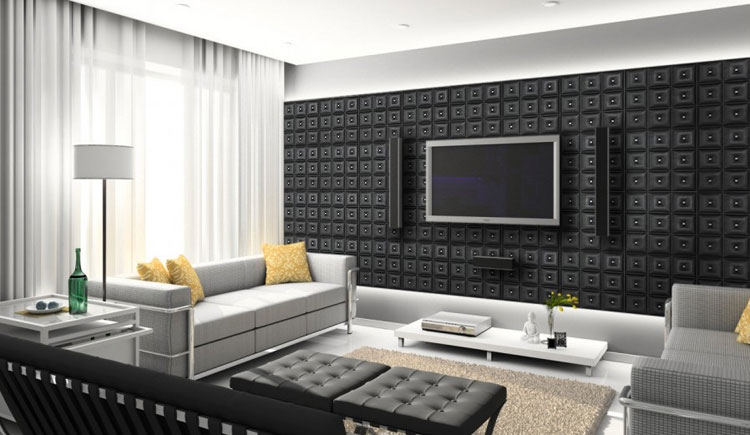 Black Decorative Wall Panels : DCT LRT19 Faux Leather Ceiling Tile – Black Diamond with Crystals (no longer available)
But we did just find these fabulous faux leather wall panels in a handful of designs and colors!
New!

Mia Francesca, a fabulous new Scott Harris restaurant (out of Chicago) just opened in Del Mar, CA — just minutes from my house.  Check out their ceiling!  It is definitely the Delicate Daisies Pattern.   Unfortunately, authentic tin / aluminum tiles cannot be ordered in black but they can definitely be painted black.  A great, more economical alternative that can be used to achieve a very similar look is the faux tin black ceiling tiles pictured below.
Delicate Daisies – Black Aluminum Backsplash Tile | 142 Black Faux Tin Ceiling Tile
Make it a Beautiful Day!